From the area called "Bergisches Land" to the Eifel, from the Ruhr area to Siegerland: Harald Vomm looks after Germany's North and West for THERMOTEX. "Fortunately I have learnt to read a map," he says with a smile. "That was really the right schooling for the field rep job," although he obviously doesn't rely on it anymore today. "Sometimes the GPS tells me to turn left, even though I know that the route on the right is shorter and better." What is great about his job? "I meet the most diverse people on a daily basis."
---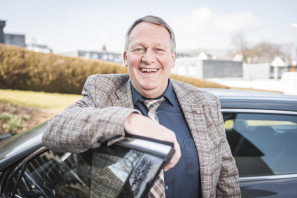 "So there I was as a career changer," recalls Harald Vomm laughingly when asked how his career at THERMOTEX actually started. That was in 1999, 22 years ago. "Selling was always my thing," he says, "but I came from the field of furniture fabrics." When he read a THERMOTEX job offer, he applied. As a qualified industrial manager, he immediately noticed the suffix "Tex" in the THERMOTEX company name. The 'Tex' in the name had made him curious. "Somehow I knew that I could fit in there."
Today, Harald Vomm, together with several colleagues, is responsible for the field service area of North and West Germany as the sales manager. And he is enthusiastic, "we are a great company with fantastic products." The nice thing, says Vomm, is the fact that there is always something new at THERMOTEX. "In the past, we mainly offered heat-seal machines, printers and supplies, today, however, the product range for textile marking is significantly bigger. Meanwhile, we consider ourselves as a supplier of systems and can optimise operational processes for our customers by using RFID tags, for example."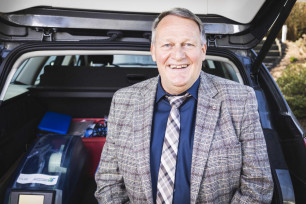 "The exciting thing in my job is that it takes me to meet so many different people in the most diverse sectors," he thinks. This includes laundries, retirement homes, sheltered workshops, hospitals, dry cleaners, clothing manufacturers, workwear suppliers, technical merchants and also industry. Today, he shares his previous field of activities with "very good colleagues" as he says himself. Wolfgang Reckhaus looks after the strip between East Friesland and the Ruhr area as far as Westphalia; Matthias Fuhner serves Schleswig-Holstein, Hamburg, and the region of Hanover up to North Hessen; Boris Heck operates in Rhineland-Palatinate and in Saarland. And what about Vomm himself? His empire is the greater area of Aachen, Cologne and Düsseldorf, the Lower Rhine region, Bergisches Land, and the area between Hagen and Siegen as well as the Westerwald. He knows his way around here; this is his home. Obviously, he doesn't lose sight of his overall responsibility for North and West Germany in all of this.
Twice a year the entire field service team meets at the THERMOTEX headquarters in Schutterwald. "This is when our field service meetings take place and we are given information about all of the latest developments and products."
Returning to the sales area at his location in the beautiful "Bergisches Land" in Wermelskirchen, careful preparation and planning of trips are needed to accomplish daily work in the field service. "This is when I need to be disciplined; after all I am not sitting in the company office, but am fully responsible for my own work. You must be aware of this; and to be successful you must act accordingly."
Would something be missing without this life on the road? "Yes, obviously. It would be bad if I did not enjoy driving to visit customers, as something would have gone wrong. We always have something new "in the bag" for our customers and are therefore an interesting partner for talks when visiting clients."
Harald Vomm remembers, "at the beginning of my work at THERMOTEX, our catalogue had 5 pages. Well yes, it was more of a prospectus. Today there are over 100 pages! Therefore, we have many opportunities to convince our customers of our products and services. The continuing success confirms to us that we are doing it right!"
---
CONTACT
Please feel free to get in touch with your contact person.
We are looking forward to your inquiry!