Harald Tatzer is responsible for THERMOTEX in Austria, but not exclusively: his field of activity extends from Northern Italy via Slovakia as far as Rumania. He reveals why textile marking is more difficult to sell in East European countries than in Germany, why word of mouth is so very important and why he no longer can visit a customer without appointment.
---
It is no surprise that Harald Tatzer is so popular with his customers. When the experienced sales rep poses for photographs, you'd think that you are looking at a TV presenter. A beaming smile, hair going slightly grey at the temples and a friendly demeanour are rounded off with a charming Lower Austrian accent.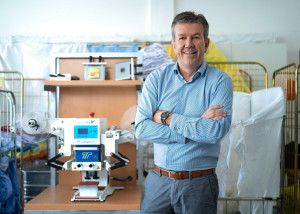 Tatzer has been in the business for 20 years and is one of the most successful salesmen at THERMOTEX, responsible for the whole of Austria, Northern Italy, Czech Republic, Slovakia, Hungary, Slovenia, Croatia, Rumania and Bosnia. This man gets around. "In the past I easily covered well over 70,000 kilometres per year," he recalls whilst based in the Weinviertel region on the outskirts of Vienna. "Strategically this is a great location; from here I only drive one hour to my main customers in Styria as well as in Lower and Upper Austria." And he also passes international country borders quickly. "Slovakia and Hungary are almost at my front door."
Tatzer spends about two nights a week in hotel accommodation. The life of a sales rep on the road can also be a little lonely at times. Now he has reduced his annual kilometres, but there cannot be any talk of tiredness. "It's all down to the Coronavirus crisis. You can't visit a customer without an appointment any longer; sadly, Door-to-Door has died out with Covid." In the past, so he recalls, things were different. He might have noticed a retirement or care home on the road and thought to himself, "let's have a quick look - textile marking is needed in most of these places." This is simply no longer possible today.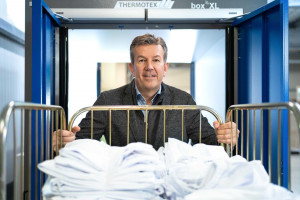 So things have changed. But for the worse? "No way!" You just have to prepare for appointments even more thoroughly. "When I want to look after a customer really well, I must provide more than just a simple consultation. The entire programme must come into play; from making an offer to price setting, from ordering to follow-up," says Tatzer. "I also
establish contact in regards to technical projects. After delivery, at the very latest, I come into play again as a field service rep when it comes to instructing and training the customer's employees."
And why is Mr Tatzer so well received? Because he helps wherever he can! He might refer to the Hotline at times, but in most instances he himself deals with the customer's requirements even in the follow-up of a business transaction. "You need to know that Austrians like to speak to Austrians on the telephone," he says with a smile. "They like to phone me when they have a problem or a question."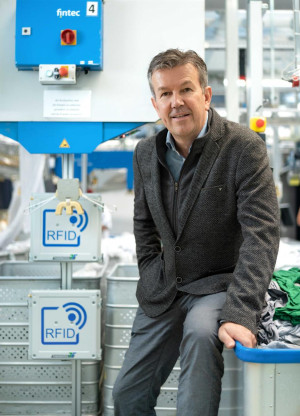 And what are the secrets of a successful field rep? "You have to be good at self organisation and also manage acquisition and administration." Those are the basics. And furthermore, "I do have the drive, when I attend a customer, to reach a successful outcome - be it however small." But it is not about forcing a product onto an interested party, when he doesn't really need it. Moreover, Tatzer always asks himself, "where does the problem lie for the customer, what solution can I offer him?" That is usually not difficult, as THERMOTEX is constantly expanding its product portfolio.
"In any case, our products are easy to sell in Germany or Austria." It is more difficult in East European countries on the other hand. Machines, resources and services for marking textiles are not as much of a priority in regions with a rather underfinanced health system. But Mr Tatzer is sticking to it. And he can rely on one thing; word of mouth. Customers often say, "just go and see Mr Tatzer, we only have good reports."
---
CONTACT
Please feel free to get in touch with your contact person.
We are looking forward to your inquiry!